Cantobox® unlimited possibilities
There are many techniques available to give a Cantobox packaging an even more unique appearance!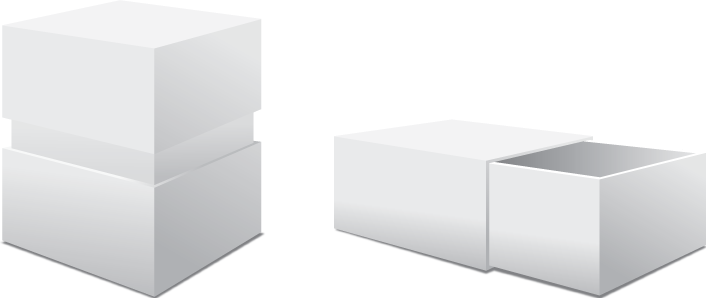 Creative boxes
Most packaging materials have a rectangular design. The Cantobox lets you be more creative with your design, however. Here, you can see some examples of unique designs we can produce for you.
We can also punch designs out of the box's lid. This creates a surprising effect, because it allows your audience to see some of the contents of the box even before opening it.
Cardboard is the basis for the Cantobox
We usually use greyboard: a material that is made entirely of recycled paper. The thickness can vary from 1.25 mm* to 3 mm* ( * the thickness depends of the type and quality of the material).
In many cases, the cardboard is covered in printing on two sides, so it hardly matters what colour the underlying material is. If the final product still shows the cardboard itself, we can use e.g. All Black or All White. These are types of cardboard that have been thoroughly coloured.
If you are looking for a truly unique packaging, you can also consider our collections from the passe-partout range, which include some truly amazing colours and structures.
Note that not all types of cardboard can be processed in our Cantobox machine. It is therefore advisable to contact your Cantobox® dealer to discuss your idea and the possibilities.
Lovely laminating
Cardboard – usually greyboard – forms the basis of the Cantobox. To make the box look more attractive, this greyboard is covered with some type of material. The most common solution is to use printing. However, if you are looking for a truly remarkable packaging, there are many other available options.
Cover the Cantobox with colourful printwork
With print you give color to the Cantobox. The Cantobox can be covered with many different types of printing, such as offset printing, digital printing or foil printing.
A nice print starts with a good design. Involve us in the design process for the best end result!
A box with a crocodile-skin design…
There are some wonderful materials available to cover the greyboard with. Take a look at the collection of Winter & Company, for example, which includes more than 3,000 types of material, many of which can be used in combination with the Cantobox. What about a bright-orange leather design or an eye-catching green crocodile-skin pattern.
If you would rather have a jute appearance, this collection has everything you want.
Many of these materials can then be processed further to make them even more attractive. Keep in mind, though, that most materials in this collection are less suitable for offset printing. If you are interested in an exotic combination, be sure to contact your Cantobox® dealer at an early stage to discuss the possibilities.
Added strength with lamination
Lamination is the process of adding a thin layer of plastic to paper. This layer protects the paper from fingerprints and other forms of damage. It also adds strength and gives the paper a luxurious appearance. There are various types of lamination: glossy, matte, or even with a linen structure.
You can take things even further with combinations of different processes: a matte-plastic laminate with a glossy varnish or foil print, for example. These combinations let you create some truly luxury packaging.
Stand out with foil print
You are probably familiar with the gold and silver foil used to create an exclusive appearance. These days, however, foils are available in thousands of different colours and patterns. Furthermore, this printing technique is not as costly as you might think.
For foil printing, we create a stamp of the image that is to be printed. This stamp uses heat to press the foil into the paper. Keep in mind that the design can therefore not contain too many fine details. An 8pt letter, for example, is likely to run, although this does depend on the font and the type of paper used.
There are some designers who are not satisfied with foil printing alone. Instead, they add a second layer of printing to the foil that was pressed onto the paper, which can lead to some surprising results!
Tangible designs with embossing
Embossing is a technique used to add a relief to paper. You can actually feel the design on the paper. This gives an embossed packaging a truly luxurious appearance. Using a male and a female stamp, a text or logo is pressed into the paper so that it is raised above the surface. Once again, there are various options available: the embossed design can be raised above or pressed into the paper. It is even possible to use a combination of these two techniques. Keep in mind, however, that your design cannot contain too many fine details.
Impress with special effects
Paper is usually printed with four-colour ink or a PMS. There are other options, however. What about glow-in-the-dark printing, glitter or ink that changes colour with the temperature? Depending on your packaging concept, there are countless possibilities to further enhance the impact of your packaging.
A stylish interior
All our Cantobox boxes are designed to house a product. These products are very diverse and many require their own unique interior design. One product calls for a wonderful presentation, while another requires excellent protection.
We can punch an interior out of all-white or all-black cardboard. To do so, we create a punching mould that is then pressed into the cardboard. We can make the interior just as appealing as the Cantobox itself.
A personal packaging
These days, more and more consumers expect tailor-made design solutions. A personalised packaging is therefore sure to appeal. The Cantobox offers several possibilities for personalisation:
Laser cutting: Once the packaging is finished, you can "write" a personal message on the packaging with a laser.
Extras: We can also add a ribbon around the Cantobox packaging. This ribbon can be printed with a personalised text, e.g. the recipient's name. We can add these ribbons manually during the final stages of our production process.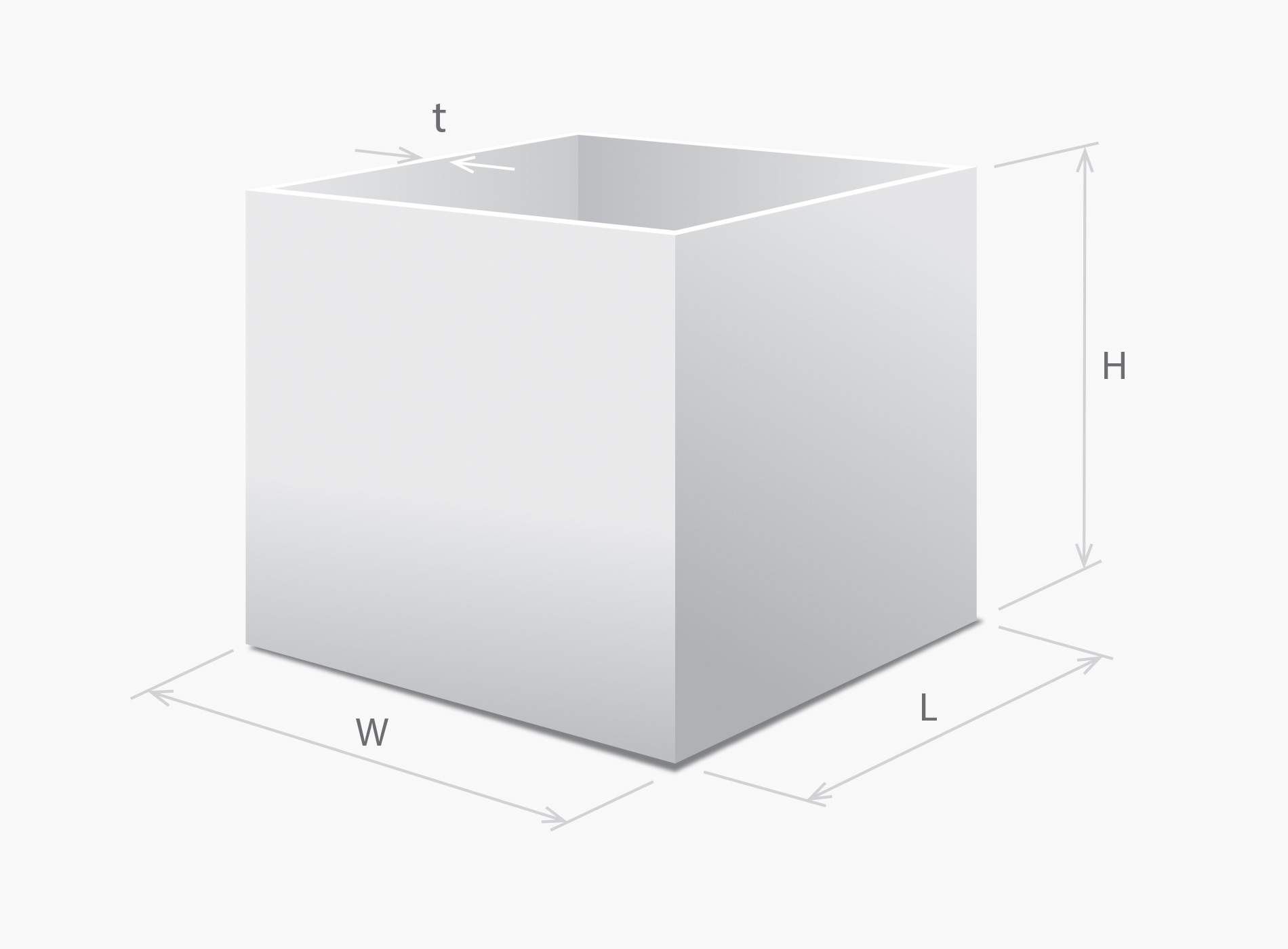 | Sizes | Minimum | Maximum |
| --- | --- | --- |
| L | 56 mm | 560 mm |
| W | 56 mm | 360 mm |
| H | 15 mm | 170 mm |
| t | 1,25 mm* | 3 mm* |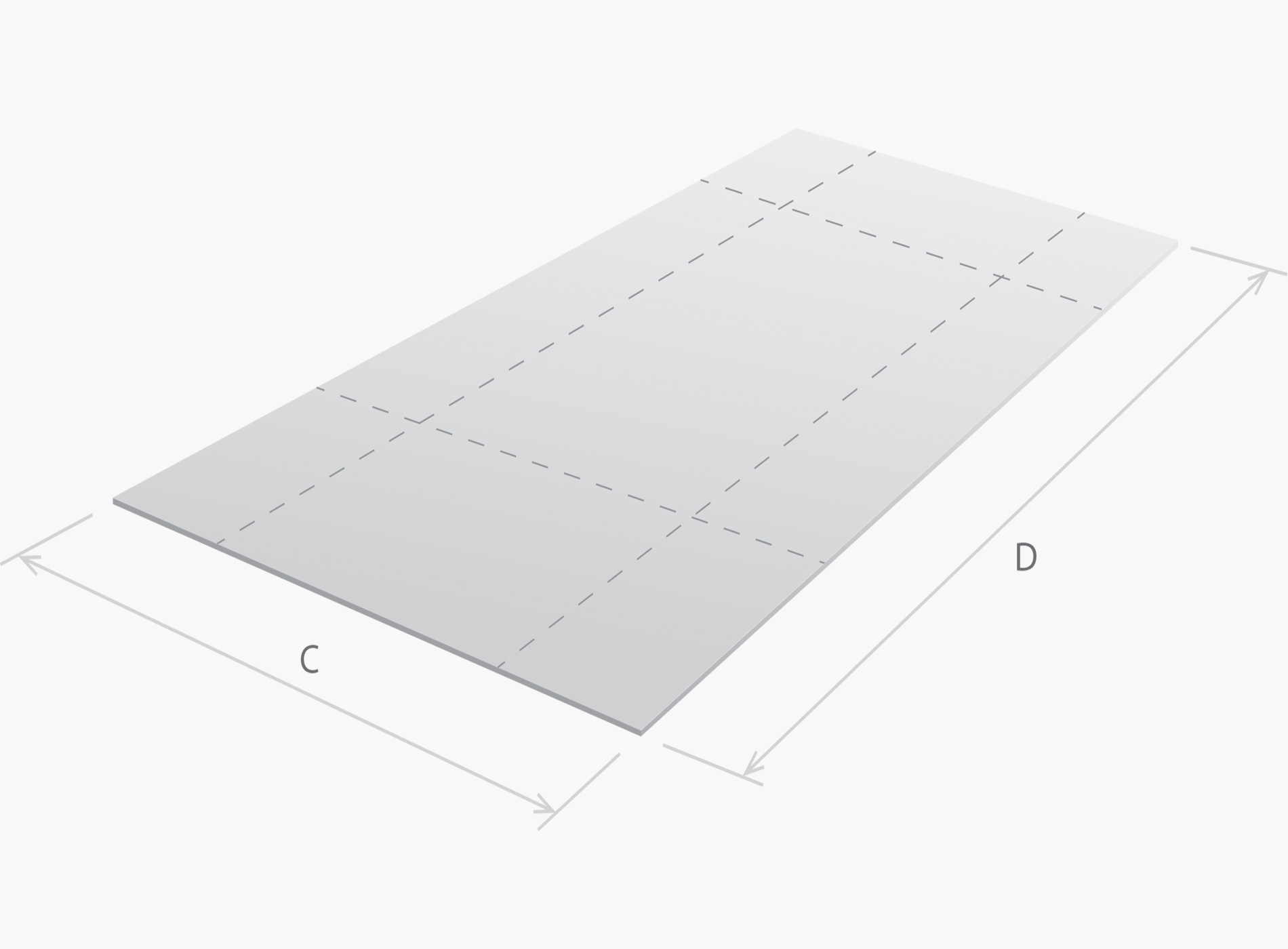 | Flat | Minimum | Maximum |
| --- | --- | --- |
| C | 100 mm | 525 mm |
| D | 140 mm | 725 mm |